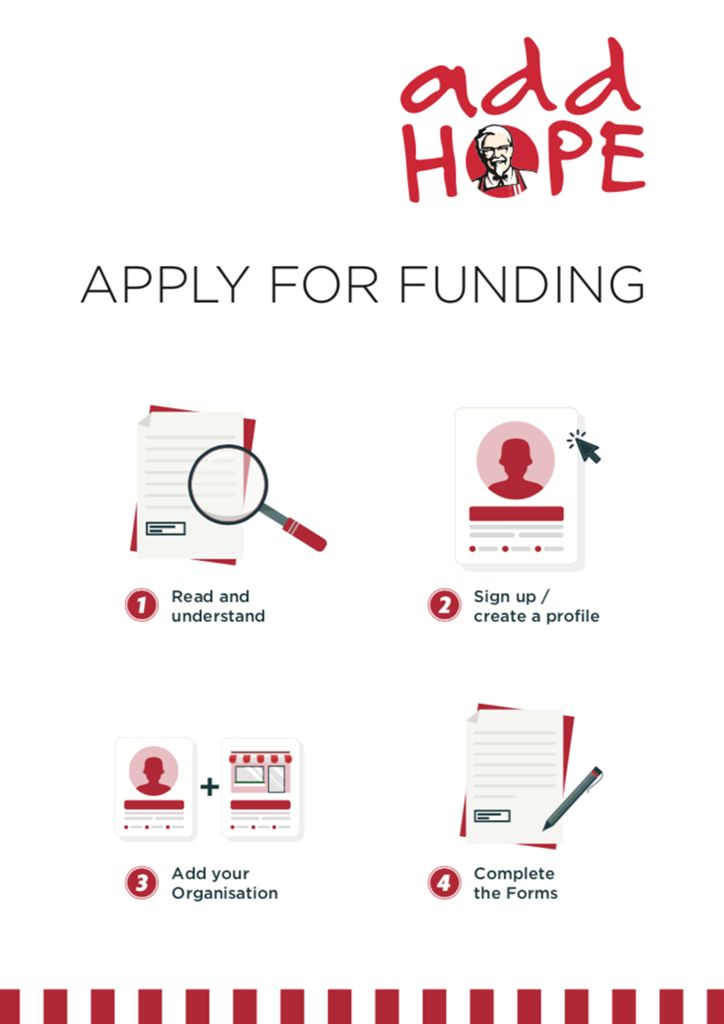 REGISTER | ADD YOUR ORGANISATION PROFILE | FILL IN THE 3 APPLICATION FORMS
Getting Started
Set aside 2 hours to complete the application process.

Make sure you have all the relevant information needed at hand before you start the application process
____________________________________________________________________________
Steps to completing Due Diligence and Application forms
STEP 1: Organisations will need to complete the Funding Application 2020 which covers your overall feeding program details and funding being requested from Add Hope
STEP 2: An additional Provincial Application form will be needed for each province that your organisation implements the feeding program
STEP 3: In addition, an upload of relevant supporting documentation is required to complete the application process. Ensure the documentation uploaded is the most up to date version
Find your Forms: You can start by finding your organisations here: https://addhope.thesocialcollective.co/orgs (Be sure to: 1. Login, 2. Find your Organisation, 3. Slick Submit now on the right hand side under the heading Due Diligence)
____________________________________________________________________________
Granting Administrator Rights to your Provincial Colleague
TIP: Ensure you have administrator rights for your organisation by logging in. If you do not, you can request administrators rights by clicking Manage from your organisation dashboard (once you have logged in). The team should take up to 24 hours to review your request.
All users need profiles. Please avoid creating a user profile which you plan to share. Use your work email address to create your own profile.
If you have a colleague who manages your provincial data.
If your provincial forms are to be filled out by a different person from the one who set up the organisation profile, you may provide administrators rights to your colleague who will assist with your Application, monthly reporting and reporting per province for the Add Hope Program.
Additional administrators can be added from the organisation dashboard. Click on add administrator and add the individuals details. The additional administrator will need to have a profile on the portal prior to them being added as administrators. A notification will be sent via email requesting them to accept admin rights.
____________________________________________________________________________
What is Next
You will receive a notification for each form filled in successfully stating your submission has been received and is pending review.
If any of the documentation submitted has some errors, the submission will be rejected and you will receive a notification via email.
Once the review process is complete, you will receive formal communication from the Add Hope team